New Stuff Out From Grave Mistake Records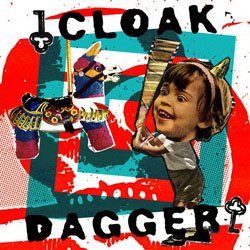 One of my favorite little record labels, Grave Mistake, just released a new EP from the band Cloak/Dagger; their debut release. I've never had a chance to hear this band,but if it's anything like the other stuff GM puts out, it should be stellar.
They also mention a new EP release from the band Cardiac Arrest. Again, I haven't heard them but I have high expectations.
Grave Mistake Records:
The highly anticipated debut EP from Richmond, VA's CLOAK/DAGGER is now available! "PINATA" delivers up four sonic blasts of raw, no-frills punk rock, attacking you with a full on barrage of BLACK FLAG-esque guitar riffage combined with a driving rhythm and infectious choruses guaranteed to leave you wanting more. Abrasive and addictive, this slab of wax won't leave your turntable.
First press is on some awesome looking white vinyl, all orders will start shipping this Thursday. You can pick up a copy in our webstore.
I did a little write-up on this label if you scroll down. They put out the Wasted Time 7", 86 Mentality's
On the Loose
7" and the wicked Deep Sleep -
You're Screwed
7".
Grave Mistake Website