'Fucked Up' Not Slowing Down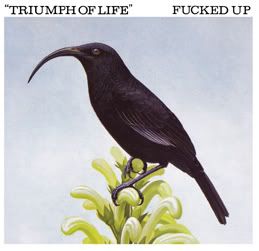 Fucked Up are one of my favorite bands making music today. Their music really connects with me and I really think that they are going to go down as one of the best hardcore bands ever. They've made some incredible EPs in the past few years, and it seems that they've still got plenty of gas in the tank.
I think that I got this info off of
Fucked Up's official blog
, but I can't seem to find it again. Anyways, here's the scoop on what you'll be hearing from Fucked Up in the next few months, copied and pasted from somewhere.
The Hidden World CD/2xLP will be released on Jade Tree Records, with the vinyl on Deranged Records. This will include a limited boxset with assort sundries and charms. More info on this box later. Expect the album to drop in late summer 2006. Recording starts Friday March 31st.
The first batch of singles for the LP are like this: Triumph of Life 7" on Vice UK in April 2006, and on Jade Tree in July, Dangerous Fumes 7" on Deranged in July, and in the EU later on with a different bside.
The "Year of the Dog" 12" will be released on Blocks Records in Toronto. Blocks is a registered worker co-op label and produces and release records within a co-operative framework. Look for this 12" in Toronto first in the late summer also. Wait until next year for the "Year of the Pig" 12".


PS:
If you want to order The Triumph of Life 7", Fucked Up suggests you go to
this site
, instead of Vice Records.