Deep Sleep 'You're Screwed' EP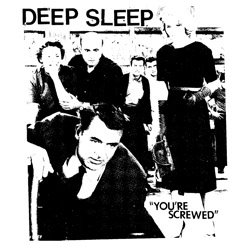 Deep Sleep are an awesome new band that I'm very excited about. Can't go wrong with a Poison Idea ref' as the name of the band. Their 7" is the kind of awesome hardcore punk rock that it seems all the bands from the American North-East are pumping out these days. With all the wicked new bands popping up though, these guys still manage to stand out, mixing speed, talented song-writing and the oldschool hardcore blueprint to create a really great sound and a must-have new 7". Their sound is very comparable to the first two Regulations EP's. This is easily my favorite 7" that I've picked up in the past few months.
Here's what their label,
Grave Mistake
, had to say:
"We are extremely excited and very proud to announce that the brand new debut 9 song EP from Baltimore's DEEP SLEEP is now available for mass consumption! Prepare yourself for a nonstop barrage of raw, spiteful, in your face hardcore punk rock. Drawing some heavy influences from classic 80's socal bands punk (a little DESCENDENTS and ADOLESCENTS worship never hurt anyone), while maintaining a healthy dose of originality, DEEP SLEEP have created a soon to be modern punk rock classic, loaded with enough infectious hooks to keep you singing along from start to finish, yet packing enough punch to knock you straight on your ass at the same time."
You can hear three songs off the 7" at their Myspace page...
Deep Sleep's Myspace